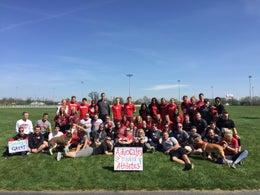 The Athletic Training Club at Ohio State University has the chartered purpose to further promote the athletic training profession, unify the athletic training education program and give back to the community. The annual Run with the Buckeyes (RWTB) event does all three. During each of the last six years the Athletic Training Club has uses this event to educate people about athletic training while raising funds for Advocates for Injured Athletes (A4IA) to support its work in promoting having athletic trainers at all levels of sports participation.
The race, a 3.1 mile course winds through Fred Beekman Park located on the outskirts of the Ohio State University campus, featured 150 participants of all ages. Even Brutus made an appearance. This year's race, on April 24, 2016 raises $1500 for A4IA. When asked, participants continue support this race because they understand the importance of sports safety and the role athletic trainers' play.
Beth Mallon and A4IA would like to thank the Athletic Training Club at Ohio State University for continuing to support the work of A4IA and being advocates for the athletic training profession.