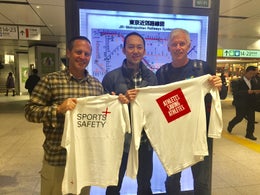 Steve Jurman and Dan Squiller, running partners and A4IA/ASA supporters will be spreading A4IA's message to Japan by wearing their ASA swag when participating in the Izu Trail Journey, a 72k ultra marathon. Steve and Dan are the ASA-sponsored runners for 2017 and the Izu Trail Journey is their kickoff event. It's just the beginning of their journey of promoting ASA and youth sports safety. They also plan to connect with Katsuhiro "Katsu" Ichihara, ATC while in Japan who is working with Sports Safety Japan as the youth sports safety messages continues to spread worldwide.
The Izu Trail Journey race is extremely popular in Japan and usually fills quickly and international racers are invited to participate to expand the culture and breadth of the race. Steve and Dan have competed in ultra-marathons previously, most recently completing a 50-mile race in Sacramento, CA last year. Both have also previously participated in several Ironman Distance Triathlons.
The Izu Trail Journey was Sunday, December 11, 2016. The course, 90% trails, crisscrosses the peninsula from the edge of the Pacific Ocean up and across the mountains of the Izu Peninsula. Race views include "expansive vistas of the Pacific Ocean and the HUGE vies of the majestic snow-topped Mt. Fuji." According to Steve, race conditions will be cold and athletes will be required to be almost self-sustaining with a short list of mandatory equipment that includes a space blanket, whistle, and layers of clothing to be carried in camelback-type backpack along with race nutrition. All racers are required to attend a pre-race meeting and then the race starts early – at 6 a.m.
Steve and Dan participate in the races to not only push their physical barriers, but also their mental ones. In Steve's mind, his ability to push his mental barriers in these ultra-marathons represents an important concept for athletes overcoming sports injuries. Often times, having the right attitude and never giving up are the keys to success not only in these races, but in injury recovery.
It seems only appropriate that Steve would choose an Ultra-Marathon to help spread A4IA's message. As sports safety education is definitely a marathon, not a sprint. A4IA wishes Steve and Dan much luck during the race and we look forward to hearing about it upon your return. In the meantime, enjoy these photos shared by Steve and Dan as they adventured in Japan.
Katsu, a certified Athletic Trainer, graduated from Bridgewater State University Graduate School and then worked in the Minor Leagues with the Seattle Mariners for three years. He moved back to Japan two years ago to spread sport safety concepts he learned here in the United States to Japan.
His mentor, Yutaka Saho and his Sports Safety Japan (SSJ) members started Sports Safety Japan almost nine years ago and since Katsu has returned to Japan they have been working together to educate others about sports safety in Japan. The mission of vision of Sports Safety Japan is very similar to that of A4IA and ASA. Their program, "Safety First Project" educates athletes on how to help their teammates in an emergency by focusing on something called the "Triple H" (head, heart, heat).
Katsu's passion for sports safety is what brought him to the US to become an athletic trainer in the first place. He continues to follow A4IA through Facebook and the blog and he looks forward to continued work in sports safety.
The Youth Sports Safety message is circling the globe and Advocates for Injured Athletes is privileged to be a part of helping the message spread globally.