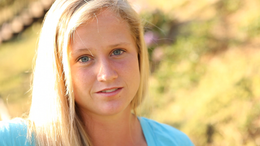 February is National Heart Month, but for Brittan Sutphin December is her heart month. On December 5, 2008 she suffered Sudden Cardiac Arrest (SCA) and survived as a result of timely CPR and use of an AED. Now she has become an advocate for preventing SCA, promoting CPR and AED training and education. She is a founding ambassador for Athletes Saving Athletes (ASA) and reminds us that "Without immediate treatment from a defibrillator, an estimated 90% to 95% of SCA victims die. The rapid response of my teammate and coach and the availability of an on-site AED saved my life." Brittan now lives with an implantable cardioverter defibrillator (ICD) to protect again future SCA episodes.
SCA is not a heart attack. SCA results from an electrical, structural or cardiac anomaly of the heart. For exercise-related Sudden Cardiac Death (SCD), especially in young people, cardiovascular anomalies are typically the cause. The most common culprits are Hypertrophic Cardiomyopathy (HCM) and Arrhythmogenic Right Ventricular Cardiomyopathy (ARVC). Overall incidence rates of SCD is still hotly debated, but data from the National Center for Catastrophic Sports Injury Research demonstrates males are 5 times more likely to suffer from SDC than females in the United States. The most common sports affected being football and basketball. For more information about the list of cardiac anomalies that could result in SCA and SCD, read: Sudden Cardiac Death in Young Athletes: Practical Challenges and Diagnostic Dilemmas (2013).
Primary prevention of SCD in athletes can present challenges. The most challenging cases are those situations where there are no warning signs such as chest pain or exercise-related syncope. Attempts are being made to determine what the potential is for identifing these individuals. As of 2014, the American Heart Association recommends a 14-point screening technique with the understanding that if an athlete answers "yes" to any of the 14 questions an EKG screening should be scheduled. The recommendation for screening youths who answer "no" to all 14 questions using EKG is not currently recommended, but for parents who are interested many groups offer screenings for their teens. Locally, the Eric Paredes Save a Life Foundation offers screenings regularly throughout San Diego County. According to their website, the next screening is scheduled at Westview High School on April 3, 2016.
In many cases cardiac anomalies that can lead to SCA have a genetic component. This is true in the case of HCM, the most common cause of SCA in young athletes. Genetics research, while in its infancy shows much promise in preventing HCM, among other cardiac conditions. A group out of South Carolina has developed a genetic test to identify SCD, while a group from the University of Vermont has identified a treatment that addresses the protein malfunction that results in HCM. The genetic test is only recommended for relevant clinical situations and is not intended as a general screening tool, while the treatment for HCM has shown success in mice and has yet to be tested on human subjects. Stay tuned as research continues.
Secondary prevention of SCD has also received attention. The emphasis on the increased availability of Automated External Defibrillators (AEDs) and training more people in Cardiopulmonary Resuscitation (CPR) in the form of hands only CPR continues. The American Heart Association research shows the more quickly after the onset of SCA CPR is initiated and an AED applied the survival rate can nearly double. For every minute it takes to initiate CPR and AED use the survival rate decreases by 7-10%. Hands Only CPR is promoted by AHA and the American Red Cross because CPR is always more effective than no CPR. Giving people basic life-saving skills without rescue breaths, which can be difficult to perform, has been shown to be beneficial, especially as publicly available AEDs increase. To learn how to perform Hands Only CPR consider taking a class with your local CPR training provider.
Treatment options for those who have suffered SCA and survive or who have been diagnosed with a cardiac anomaly requiring intervention are beginning to improve. In December 2015 the Food and Drug Administration (FDA) approved a wearable defibrillator, the LifeVest. It is believed the device could help approximately 3500 children annually. This external device provides defibrillation if necessary, while the cause of SCA is determined. The device is meant to be worn for a short period of time while developing a long-term treatment plan.
Take the time to learn more this February. Learn the signs of SCA and know the questions to ask. Be prepared to respond in an emergency by learning CPR and how to use an AED. If given the opportunity participate in the ASA program.