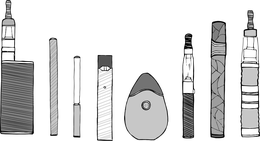 Technically known as electronic nicotine delivery devices (ENDS), they are more commonly referred to as e-cigarettes, e-cigs, vape pens or vape sticks[1]. The process of smoking e-cigaettes is commonly referred to as vaping or JUULing (the name of a major brand preferred by teens and young adults). Vaping has becomes so popular among middle schoolers and high schoolers that it has been deemed a public health crisis [2]. A recent article I reviewed talked about a school implementing penalties for students who were caught with an e-cigarette and/or vaping. These penalties included a 9-week competition suspension for athletes and/or calling the police [3]. Initially I was surprised by the number of athlete stories I found that demonstrated the popularity of vaping among young athletes, but upon further research, including a better understanding of why vaping is popular among teens I understand why even athletes could be attracted to e-cigarettes.
E-cigarette History
E-cigarettes as we know them today were originally developed in China in 2003 and became available in the US in 2006 [4]. Initially marketed to smokers as a tool for supporting smoking cessation, their use has continued to grow in the years since. Many users see them as a safer alternative to traditional cigarettes.
The e-cigarette industry is valued at $2.5 billion. The market is often segmented into three major components - vape shops, online retailers and convenience stores, drug stores and other mass retail channels. Each segments accounts for an estimated 36.4%, 31.8% and 31.8% of the market respectively [5]. Particular attention has been paid to the way e-cigarettes have been marketed to teens and young adults - very similar to the way traditional cigarettes were marketed originally. E-cigarettes focus on kid-friendly flavors, products are often endorsed by celebrities and in some cases, companies are offering scholarships to engage teens and young adults with their products [5].
The Stats
According to the Centers for Disease Control and Prevention [8]:
* Since 2014 e-cigarettes have been the most commonly used tobacco product among US youth
* 1 in 5 high school students used e-cigarettes in the last 30 days
* 1 in 20 middle school students used e-cigarettes in the last 30 days
* As of 2018 an estimated 3.6 million youth have vaped within the last 30 days - 20% of all youth (up nearly 9% from 2017) and appears to be on the rise still in 2019
* In 2018 19% of users were female and 23% were male
*According to package insert from JUUL one cartridge equals a pack of cigarettes or 200 cigarette puffs
The Appeal
According the CDC publication, Know the Risks: E-cigarettes and Young People [6], teens gravitate toward e-cigarettes and vaping because:
They believe e-cigs are less dangerous than burning cigarettes.

They enjoy the flavors. Many "juices" come in various flavors such as chocolate, blueberry, watermelon, and bubble gum - 68% of teens and young adults admit to using flavored e-liquid.

Vaping may be modeled by a family member another friend, making it seem appropriate.

They are curious.
Busting the Myth of Safety
Current research results are mixed on the safety of e-cigarettes relative to traditional cigarettes because some studies have shown less chemicals in e-cigarettes, but the chemicals are still dangerous. Over 60 chemicals have been identified in e-liquid or "juice" including nicotine, carcinogens, and heavy metals like lead, nickel and tin [5, 7]. Just because there may be less chemicals in e-cigarettes as compared to traditional cigarettes, doesn't deem them safe. These chemicals are unsafe no matter how they are ingested. Finally, vaping is still relatively new and long-term health impacts are still unknown. Despite these dangers vaping companies continue to promote that they are safer than traditional cigarettes. The promotion is working - 6 out of 10 teens believe e-cigarettes cause little to no harm [6].
The Risks
According to the CDC, American Lung Association and American Academy of Pediatrics e-cigarettes are dangerous for kids, teens, and young adults. There are several dangers, but the most often cited are the impact of nicotine on the developing brain and the likelihood of becoming addicted to nicotine. Additionally, the CDC discusses behavioral risks, the use of two or more tobacco products and the aerosol risks [8].
The brain continues to develop until approximately age 25, using e-cigarettes while your brain is still developing can lead to structural changes in the brain that can decrease your attention and negatively impact your ability to learn. Nicotine exposure to the developing brain has also been associated with addiction, mood disorders and potentially poor long-term impulse control (poor decision-making).
Nicotine is known as a highly addictive substance in adults, but is even more so in kids, teens and young adults and their developing brains. Young brains develop synapses much faster than adults, meaning the influence of nicotine on those synapses can be compounded in young brains. Addiction to nicotine in e-cigarettes can be a gateway to an addiction to traditional cigarettes, or other tobacco products and in severe cases other drugs including cocaine.
Among high school cigarette smokers 7 out of 10 use e-cigarettes. Many users have used a combination of e-cigarettes and traditional cigarettes. There is no evidence to suggest that e-cigarettes are protective against future use of traditional cigarettes or other tobacco products, in fact, it seems the opposite maybe true. E-cigarettes may be the gateway to traditional cigarettes.
Finally, the aerosol from e-cigarettes is not just "water vapor". The vapor that is produced contains many chemicals and even heavy metals. While scientists are still working to better understand what happens when you heat these chemicals versus burning them, the chemicals are still known to be dangerous and should be avoided. Unique to e-cigarettes, some injuries have occurred when the battery has exploded (most often while charging).
The Signs
A review of several sources highlights these as the most prevalent signs and symptoms parents and others should be on the lookout for when determining if you teen may be vaping [9, 10, 11]. The most important thing to remember is you may not see your teen doing it and the devices can be easy to hide and often the symptoms can be hard to notice at first. If they are addicted, the symptoms reported may not be the same as someone who is smoking traditional cigarettes. The most common signs and symptoms include:
*Increased thirst
*Acne
*Desire for flavor (spicy foods)
*Nosebleeds
*Decreased caffeine use
*Pneumonia
*Smoker's Cough
*Increased mood swings, irritability
*Acting secretive
*Unfamiliar batteries and pens, or devices that look like an odd USB
Athletes & E-cigarettes
Athletes are among the millions who are using e-cigarettes. Since many of them believe they are safe there is no concern that e-cigarettes will impact their health and/or performance. A 2017 study looked at athletes who use e-cigarettes and found it wasn't just baseball players (known for their use of chewing tobacco), it was football, ice hockey, wrestling, gymnastics and skiing among others [12]. Many of the athletes who used as part of this study admitted to using nicotine to improve focus and weight loss. The ergogenic effects may be overstated, but that hasn't stopped the athletes from using e-cigarettes for this purpose.
Cade Beauparlant, a hockey player in Massachusetts vaped regularly for nearly 4 years and ultimately became addicted. He has now stopped vaping, but his mom believed he's not the same kid he was before vaping.
"Kristin Beauparlant's son, Cade, was captain of the hockey team until he got caught using e-cigarettes in school. He started undergoing treatment for nicotine addiction and learned he had developed a lung disease after at least four years of using nicotine products. He was a good kid, very smart, very athletic, kind of had everything going for him, and then things just changed, said Beauparlant, a nurse and a mother of three from Newburyport." [13]
Additional Resources
Given the breadth of this epidemic many of the major organizations have some degree of information out there about e-cigarettes and nicotine addiction resources. Resource sheets focus on a range of target audiences - teens, their parents, schools and even healthcare providers. Go ahead, take a look around, there's a lot to see.
CDC Quick Facts on E-Cigarettes
American Lung Association - E-Cigarettes
American Academy of Pediatrics - HealthChildren.org - Tobacco
American Academy of Pediatrics - E-Cigarettes
DISCLAIMER: The content contained in this blog is for informational purposes only. The content is not intended to be a substitute for professional medical advice, diagnosis or treatment. Always seek the advice of your physician, athletic trainer, or other qualified health provider with any questions you may have regarding a medical condition. If you think you may have a medical emergency, call your doctor or 911 immediately.