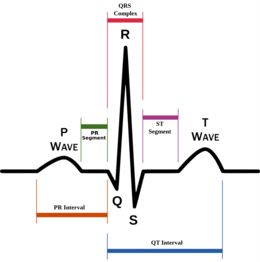 The calendar has turned to January bringing a new year and the beginning of spring sport seasons for many (especially at the college level). As colleges ramp up for the start of softball, baseball and lacrosse seasons high school and youth seasons are not far behind. These sports along with field hockey, ice hockey and other sports that use high-velocity, low mass balls (as compared to football, basketball and soccer balls) can put youth athletes at risk for certain injuries. Eye injuries can be more common in this sports where protection is not required (think some racquet sports too), but there is also concern for commotio cordis. Commotio cordis is a rare and potentially fatal cardiac condition that is the result of a blow to the chest by a blunt object. Today's post is going to highlight some of the basics of this condition.
UNDERSTANDING COMMOTIO CORDIS
Commotio cordis (CC) is a condition that can lead to sudden cardiac arrest (SCA) as the result of a blunt trauma (blow) to the anterior chest.This blow results in a ventricular arrhythmia and ultimately death. It is different than other cardiac conditions that can lead to SCA because it is not the result of an undetected electrical anomaly in the heart. CC is an extremely rare condition because the precise nature of events that must occur to lead to an arrhythmia.
For CC to result a potential victim must be struck directly over the left ventricle of the heart during the upstroke of the T-wave of the heart rhythm. In other words, there is an extremely small window in which the ventricular arrhythmia will occur. You must be struck in the chest over the heart during a specific point in the heart rhythm.
Current statistics show about 20 events annually on the national registry, but there is some belief that there is some underreporting due to poor recognition and underreporting. Other statistics include:
80% are white
95% are malE
10-18 year olds are most susceptible with 75% under 18 and 26% younger than 10
Survival rates have increased from 10 to 58% thanks to increased availability of AEDs in recent years
If you're reading this wondering what prevention steps you can take, check out the Korey Stringer Institute (KSI) link. The following resources are some of the most useful in understanding the condition and recognizing it.
ADDITIONAL RESOURCES
KSI: Commotio Cordis
Louis J. Acompora Memorial Foundation
Commotio Cordis (Review published by Sports Health)
National Athletic Trainers' Association: Official Statement on Commotio Cordis
KSI: Publications Database (Cardiac Conditions)