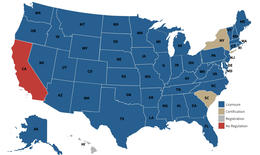 At around this same time last year bill AB 1592 was just starting to wind its way through the California legislative process. It appeared that the efforts made by the California Athletic Trainers' Association (CATA) and its advocates were getting closer to finally achieving licensure for athletic trainers practicing in the state. In support the Advocates for Injured Athletes (A4IA) blog drafted an open letter to the California legislature and Governor Newsom. While AB 1592 did pass through the Assembly Committee on Arts, Entertainment, Sports, Tourism and Internet Media, the decision was made to hold the bill until this spring to have the next hearing. That time has now come.
According to the CATA Governmental Affairs Committee:
California politics remains a complex and ever-changing landscape. As your CATA Governmental Affairs committee, we have been moving steadily forward since suspending assembly bill 1592 last spring to create the best practice act we can for our membership.
Over the past few months, we have had multiple meetings with key stakeholders, along with our opposition, to discuss, in depth, specific language points. But, with all the work that we have done, there is still much to do. The discussions pushed against a committee hearing, but CATA has made the decision to let AB 1592 stay in committee. However, we are moving forward with a licensure bill in this legislative calendar year.
We will be amending a senate bill with our language, which will serve our purpose just as well as AB 1592 would have done. (source: Michael Chisar, MS, ATC, Chair, Governmental Affairs Committee)
In short, AB 1592 will remain in committee, but a new athletic training licensure bill, AB 1665, that builds on AB 1592 and includes much of the work that was done over the last 9 months, will be heard in committee in the California Senate later this spring.
Nearly 400 organizations, including schools, universities, professional sports teams, medical associations, advocacy organizations and health care companies supported AB 1592 creating momentum for the legislation along with the 1,500+ letters of support for the bill. For AB 1665 to successfully pass it will need even more support than AB 1592. It is vitally important that your legislator hear from you and why it is important to finally make licensure a reality. If you missed Hit the Hill Day on February 24, 2020, don't worry, you can still help! Details on how to submit your email of support through the CATA website will be coming soon! Along with those letters you can call your California legislators, meet with them at their office hours, and encourage others to do the same.
The numbers are shocking – more than 56% of high schools in California do not have a certified athletic trainer, and of those that do, only 14% have a full-time athletic trainer. Scarier still is the fact that 1 in 6 people claiming to be athletic trainers do not have the appropriate education and training and are endangering our young people. Nearly 60,000 athletes are being cared for by an unqualified individual at their school. When you consider that these individuals pretending to be athletic trainers are also caring for the needs of every visiting team's athletes, then hundreds of thousands of California student athletes (and their parents) are unknowingly putting their trust in these unqualified individuals to manage concussions, heat illness, sudden cardiac arrest and spinal cord injury, along with sprains and strains and fractures and dislocations
Take a look at the infographic to learn more. In fact, download it, share it and talk about it with your friends, family, coaches, athletic administrators, physical therapists and other healthcare providers.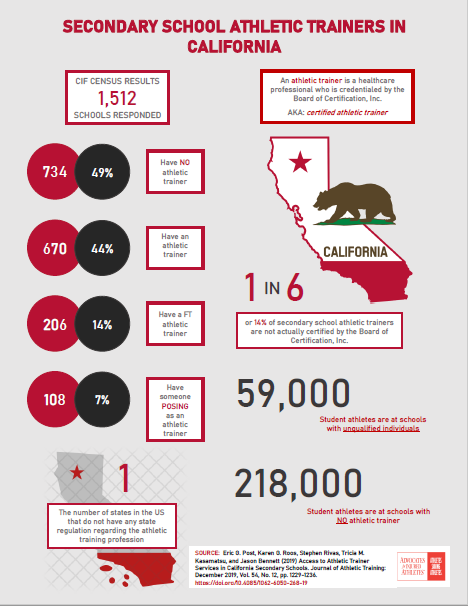 It is time for licensure to become a reality for athletic trainers in California. Doing so closes a significant public safety loophole and protects hundreds of thousands of young athletes across California. Reflect on why passing this legislation is important to you and tell others. These and many other advocates are asking for your help in finally making it a reality:
Beth Mallon, Co-founder, Advocates for Injured Athletes:
As the co-founder of Advocates for Injured Athletes and the mother of an athlete who suffered a catastrophic injury I strongly support the passing of the athletic training licensure bill. Our son most likely would NOT have survived if it were not for the athletic trainer present on the field the day he fractured his neck. It is time, in fact it is way overdue, for California to support the licensure of athletic trainers and protect our student athletes.
Michael Chisar, MPT, ATC, Assistant Professor; Program Lead Sports Medicine, Athletic Training Program, Diablo Valley College; Chair, Governmental Affairs Committee, CATA:
Passing licensure for athletic trainers in California would finally allow California to join the rest of the country and ensure that anyone providing health care services as an athletic trainer is actually an athletic trainer and qualified to do so. As an athletic trainer and a parent of high school and youth athletes, it is frightening to think that untrained and unqualified individuals are given the mandate to make potentially life and death decisions regarding the care of my children and hundreds of thousands of other kids up and down the state. Licensure provides a simple remedy to this situation at no cost to taxpayers and would also allow parents and other consumers the ability to file a complaint and have it investigated if they believe an athletic trainer is practicing negligently or unethically, further increasing public safety.
Eric Post, PhD, ATC, Assistant Professor, Athletic Training Education, San Diego State University:
All 49 other states have passed legislation to regulate the profession of athletic trainers and protect patient safety. California is putting at least 60,000 high school student-athletes at risk by allowing them to be cared for by unqualified individuals who call themselves athletic trainers.
Christina Scherr, MEd, ATC, Head Athletic Trainer, Westview High School; Secretary, CATA:
Licensure is not only important to me, but the young athletes, parents, and coaches that I work with. It is dangerous to have someone who is not appropriately educated and qualified to provide appropriate medical care based on the current standard of practice. This situation creates a false sense of security for parents and athletes alike that is significantly highlighted with catastrophic or even life-threatening injuries. There is no state regulation as to who can care for these injuries on the sidelines or at the schools. Licensure could literally be a matter of life or death.
Infographic Reference: Eric G. Post, Karen G. Roos, Stephen Rivas, Tricia M. Kasamatsu, and Jason Bennett (2019) Access to Athletic Trainer Services in California Secondary Schools. Journal of Athletic Training: December 2019, Vol. 54, No. 12, pp. 1229-1236. https://doi.org/10.4085/1062-6050-268-19
ACKNOWLEDGEMENT: Thank you to Michael Chisar, MS, ATC and Eric Post, ATC, PhD for their time and input for this blog. Without your insight the blog and the associated infographic would not have been possible. I am grateful for the time and effort you have put into the push to license athletic trainers in California and am hopeful that 2020 is finally the year. It's people like you and those that support you that are truly making a difference. It's been my privilege to work with you both.
DISCLAIMER: The content contained in this blog is for informational purposes only. The content is not intended to be a substitute for professional medical advice, diagnosis or treatment. Always seek the advice of your physician, athletic trainer, or other qualified health provider with any questions you may have regarding a medical condition. If you think you may have a medical emergency, call your doctor or 911 immediately.
Photo credit: National Athletic Trainers' Association (NATA)