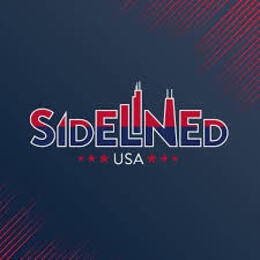 Many of you reading this blog are familiar with Advocates for Injured Athletes' (A4IA) tireless effort to push for the presence of athletic trainers at athletic events and practices to prevent catastrophic injuries. When these injuries do occur, athletic trainers are the best trained, first line of defense, to recognize and manage severe life-threatening situations including head and neck injuries, sudden cardiac arrest (SCA) and exertional heat illness (EHI). Ideally, prompt recognition and treatment would ultimately allow an athlete to return from this type of injury, but what happens when they can't? What if SCA reveals a medically disqualifying heart condition or if several concussions lead to the reality that it is no longer safe to continue? How do we recognize and help these grieving athletes find a new connection to sport?
There is no one answer to these questions, but Sidelined USA was created to try to provide answers. Much like A4IA, Sidelined USA started in response to a young athlete's need to find his own way forward and to reconcile his inability to continue playing basketball after being permanently sidelined in junior high school. Cade Pinalto recognized that while he couldn't compete, there may be another way to pursue sports. His journey ultimately led him to fulfilment through coaching. This revelation of redirecting one's athletic passion is the main concept that turned into what is now Sidelined USA, a collaborative effort between Cade and his mom, Christine Pinalto.
"Sidelined USA is leading a national movement to better serve, resource, and inspire permanently-sidelined athletes to cope with their tremendous loss and find a meaningful way forward following medical exit from sport. Additionally, Sidelined USA engages in original research, education, and advocacy initiatives to raise awareness for improved after-care of medically disqualified athletes nationwide."
Christine and Cade recognized that that a medically forced exit from sport caused by career-ending injury, health condition, or repeat concussions can be a devastating, life-altering event with significant and long-lasting psychological impact. The research paints a rather bleak picture of the psychological response to a medically forced exit from sport. Permanently-sidelined athletes are at high risk for depression, isolation, anxiety, identity loss, alcohol and drug abuse, disordered eating, suicidal ideation, and diminished life satisfaction even years later. This recognition has led to a 3-pronged support approach for athletes navigating this grief process. The process combines resources related to personal coping strategies, opportunities for social support by creating connection with other athletes who have had similar experiences, and providing new pursuits (new passions or challenges).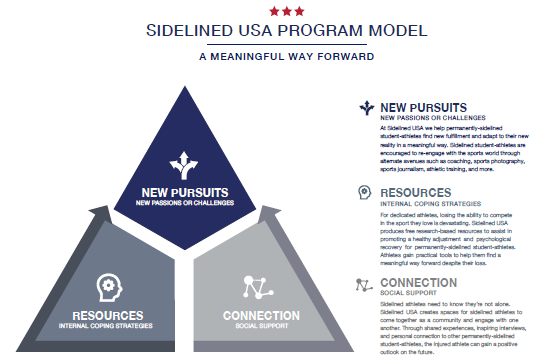 The concept of new pursuits is especially interesting and exciting as it offers permanently-sidelined athletes an opportunity to stay connected with sports, but to use their drive, competitiveness and passion in another form. The possibilities for staying engaged in sport include coaching, athletic training, and sports broadcasting/journalism among others. Thinking about it now, it seems obvious that this could be the key to transitioning, but when you're living in your grief nothing is obvious. How many athletic trainers do you know that chose the athletic training profession because they got hurt and realized they weren't going to be able to compete anymore, or that they weren't going pro in their sport of choice? Many of us made the transition beyond athlete into a new pursuit without even realizing we did.
Sidelined USA not only advocates for athletic training and athletic trainers as an alternative pursuit in sports, but acknowledge athletic trainers may be the key to identifying athletes who are struggling with their medically forced exit. Sidelined USA not only provides resources and education for permanently-sidelined athletes and their parents, but to healthcare providers, including athletic trainers. The first step to helping these athletes is to recognize their grief and offer support, but knowing what to offer is important. This has become particularly evident in recent months as a result of the COVID-19 pandemic. An entire group of athletes are struggling to move on after their seasons, and perhaps careers, were abruptly ended by the cancellation of their sports season. To address this head on, Sidelined USA has developed a resource page for athletes, parents and athletic trainers: https://www.sidelinedusa.org/covid19.
Athletic trainers will have the opportunity to participate in a webinar sponsored by the National Athletic Trainers' Association (NATA) and presented by Sidelined USA. The session is scheduled for June 10, 2020. Check out the resources to learn more.
For advocacy and education to be effective, it must be supported by research designed to clarify the problem and identify the best evidence-based interventions to support permanently-sidelined athletes. Sidelined USA is currently looking for survey participants to better understand the physical and psychological challenges associated with a forced medical exit from sport. If you or someone you know meet the participant criteria you are encouraged to complete this brief (10 – 15 minutes) online survey. The larger the survey population, the more likely the results can provide impactful insights.
SURVEY CRITERIA: Seeking athletes who have experienced a medical exit from competition/sport:
Defined as "personal sport(s) or competition that ended directly due to medical reasons of any kind"
Between the ages of 18-60 years old
Whose medical exit occurred at least 6 months ago
SURVEY LINK: https://illinoisstate.az1.qualtrics.com/jfe/form/SV_82PfEalhs4uxtaJ
A4IA works hard to prevent catastrophic injuries through education and advocacy, but it doesn't often address how to support athletes who are permanently excluded from sport for medical reasons as a safety precaution. Sidelined USA provides the potential to fill this gap and is meeting an important need. Supporting those athletes who survive both catastrophic and non-catastrophic injuries that lead to a medically forced exit is critical as it is generally associated with a misunderstood grief process that can have long-term physical and psychological impacts. As always, athletic trainers are often on the front lines in these situations and I hope the information provided by both A4IA and Sidelined USA continue to support you in your role to be advocates for athlete safety and well-being in your community.
Acknowledgement: Thank you to Christine Pinalto, Executive Director at Sidelined USA for working to make the time to talk to me about your organization and its efforts. The work you do is so important, especially in this time, and it was a privilege to learn about you, Cade and your organization. Your creative programming designed to help athletes grieve and transition to a new passion after a sudden exit from sport is a much needed source of advocacy, education and social support. I look forward to seeing the answers your research reveals on how to better help these athletes in need.
Disclaimer: The content contained in this blog is for informational purposes only. The content is not intended to be a substitute for professional medical advice, diagnosis or treatment. Always seek the advice of your physician, athletic trainer, or other qualified health provider with any questions you may have regarding a medical condition. If you think you may have a medical emergency, call your doctor or 911 immediately.
Image Credit: Provided with permission by Sidelined USA.