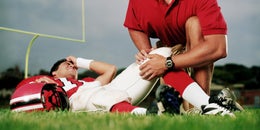 Disclaimer: The content contained in this blog is for informational purposes only. The content is not intended to be a substitute for professional medical advice, diagnosis or treatment. Always seek the advice of your physician, athletic trainer, or other qualified health provider with any questions you may have regarding a medical condition. If you think you may have a medical emergency, call your doctor or 911 immediately.
July has quickly turned into August and before you know it classes will be in session, signally the start of another school year. This time of year also signals the start of a new sports season. Preseason practices seem almost like a rite of passage where young athletes practice in the heat, twice a day and potentially wearing too much equipment to physically and mentally prepare for the coming sports season. Much has changed since the days of double and triple football practices in full pads with little to no water or shade, but that doesn't mean that the potential for injury or illness doesn't still exist. You only need to do a quick Google search to see the names Zachary Polsenberg, Everson Guild, and John Lee, teen athletes who have died in the last week or so from either exertional heat stroke or an undiagnosed heart condition during summer camp or voluntary workouts.
While sports will never be risk-free, there are things that can be done to minimize the risk. Here are some things to keep in mind to maximize the safety of your athletes.


RECOMMENDATION 1: Complete a pre-participation examination (PPE) that meets the latest evidence-based recommendations.
The National Athletic Trainers' Association Position Statement: Pre-participation Physical Examinations and Disqualifying Conditions (2014) includes recommendations for both a proper medical history and physical examination. A comprehensive family medical history is critical since some conditions are genetic (cardiac disorders), while a previous history of an injury and illness can indicate the potential for a future injury/illness of the same type (exertional heat illness, concussion). The physical examination is expanded beyond a general screening to include a comprehensive cardiovascular exam based on American Heart Association (AHA) recommendations, a neurological exam, and an orthopedic exam. Any additional testing or labs should be ordered based on the athlete's previous history and the current PPE screening results.
Particular focus has been placed on the cardiovascular screening component as of late and the debate still continues as to whether young people should be screened pre-emptively for potentially catastrophic cardiac conditions using EKGs or other means beyond the AHA guidelines. The American Medical Society for Sports Medicine (AMSSM) has summarized the latest recommendations as it relates to cardiovascular screening for young athletes HERE. Generally, due to lack of evidence, the AMSSM cannot require all athletes to be screened using EKG, but does acknowledge that EKG screening techniques have improved and can be utilized by team physicians on a case-by-case basis. There are still many challenges to determining a clear overall screening process according to the AMSSM, but in the end, your family physician or team physician is your ally in ensuring the overall health of your athlete. If you have concerns, express them to the physician so proper follow up can be made using shared decision-making with your physician.


RECOMMENDATION 2: Ensure your school has an athletic trainer and that athletic trainer is properly credentialed.
Athletic trainers are trained and equipped to ensure the safety of the athletes in their charge. Having an athletic trainer on staff means that athletes are more likely to be practicing in safer conditions and that a proper response is made when an emergency arises. Having an athletic trainer on staff at your school is a great first step to overall sports safety. The athletic training profession is licensed in 49 of 50 states, ensuring all individuals using the designation "athletic trainer" are properly educated and trained to use the designation. Licensure also ensures that communities are guaranteed a certain level of service as defined by the laws in your state. Check out your state's athletic training legislation to learn more about the requirements in your state.
For those of you in California, athletic trainers are currently not required to be licensed at the state level. While many of the athletic trainers across the state have completed the proper education and certification process there are some individuals improperly using the designation "athletic trainer." Anyone who is concerned about the credentialing of an athletic trainer please go to the Board of Certification, Inc. website and complete an online verification of the athletic trainer in question. If the individual is not credentialed please report it. California is in the process of seeking licensure for athletic trainers – AB1510. Please encourage your representatives to support the bill.


RECOMMENDATION 3: Know the emergency action plans for your school or sports league. Be inquisitive and ensure these plans live up to the latest evidence-based recommendations.
For a summary of recommendations for emergency action plans in athletics, see the NATA position statement.


Preparing for participation: Hydration, acclimatization and general prevention
General prevention: Prevention is a major tenet of the athletic training profession and is a major reason for employing an athletic trainer at your organization. Some specifics will be highlighted below, but prevention is the lens through which the overall athletics program safety plan should be viewed. There is plenty of information out there provided by the National Athletic Trainers' Association on a wide range of topics, but you should also be aware of guidelines/rules in your state, league or school. Often times, leagues or schools may have specific guidelines based on policies supported by their designated athletic association or state-level legal requirements.
Inter-Association Consensus Statement on Best Practices for Sports Medicine Management for Secondary Schools and Colleges (2014)
National Athletic Trainers' Association Position Statement: Preventing Sudden Death in Sports (2012)
Hydration: In general, there should be plenty of opportunities before, during, and after practice for hydration. Athletes should also consider their level of hydration (or dehydration) throughout the day. Maintaining proper hydration is a 24/7 process and is believed to decrease the risk of injury or illness – especially exertional heat stroke, a potentially catastrophic condition.
National Athletic Trainers' Association Position Statement: Fluid Replacement for Athletes (2000)
Heat acclimatization: Along with hydration, acclimatization guidelines should be followed. This encompasses proper progression of increasing levels of equipment (think football or field hockey goalie), numbers of practices in a given day or week and the increasing exercise intensity at these practices. Following the recommended 14-day progression decreases the potential for injury and exertional heat illness.
American Academy of Pediatrics: Policy Statement—Climatic Heat Stress and Exercising Children and Adolescents (2011)
Preseason Heat-Acclimatization Guidelines for Secondary School Athletics (2009)


Preparing for the environment: Responding to changing weather conditions
Assessing heat and humidity: This type of weather can be particularly dangerous, so being able to utilize the proper tools to recognize the level of danger and implement appropriate recommendations is key. Proper assessment of the Wet Bulb Globe Temperature (WBGT) is the first step in proper decision-making about practice recommendations and restrictions. For more details refer to the Korey Stringer Institute's Wet Bulb Globe Temperature Monitoring resources. Following work-to-rest ratios and other activity guidelines prevent the likelihood of exertional heat stroke (EHS).
Lightning safety: Thunder storms and the associated lightning can move in quickly so you must be prepared to respond promptly according to your designated plan. According to the National Oceanic and Atmospheric Administration (NOAA) and the National Weather Service (NWS), "When thunder roars, go indoors." Calculating how close a storm is can be done with a lightning meter or the flash-to-bang method. Everyone should take shelter as directed before the storm is within 6 miles of your location. For athletic activities suspended due to lightning, activities cannot resume for at least 30 minutes after the last lightning strike.
National Athletic Trainers' Association Position Statement: Lightning Safety for Athletics and Recreation (2013)


Preparing to respond: Something has happened…. Now what?
Exertional Heat Illness (EHI): EHI encompasses a spectrum of conditions that are indicative of an athlete overheating. When recognizing that someone is suffering from exertional heat illness the immediate response should always be to remove them from the heat and evaluated them more fully. Specifically, when exertional heat stroke (EHS)is suspected, a potentially catastrophic condition, the focus should be on assessing the athlete's rectal temperature and beginning the cooling process immediately via cold water immersion. The gold standard is, "Cool first, transport second." Additionally, assessing the rectal temperature is the most accurate method for assessing actual core temperature and is highly encouraged in all cases of exertional heat stroke. The Korey Stringer Institute suggests that if a rectal thermometer is not available to not use an alternative method (i.e.: oral, axillary).
National Athletic Trainers' Association Position Statement: Exertional Heat Illnesses (2015)
Sudden Cardiac Arrest (SCA): SCA is a medical emergency and often occurs without warning. A prompt response and quick access to an Automated External Defibrillator (AED) is the key to survival. Along with access to an AED, knowing CPR and immediate activation of the Emergency Medical System (EMS) is critical. Knowing the location of the nearest AED, or even if your school has AEDs is a first step in being prepared for a cardiac emergency. Do know where your school's are located and do you know how to use it? Are your coaches trained in CPR or do you know Hands-Only CPR? These are questions you should know the answer to.
National Athletic Trainers' Association Position Statement: Preventing Sudden Death in Sports (2012)
Concussion: Prevention, management and return to play following concussions continues to be a major sports safety challenge. Many organizations, including the NATA have statements discussing guidelines for these injuries. Most states have legislation supporting the evaluation and management of concussions. The amount of information regarding concussions continues to grow with a particular focus on trying to find objective tests to signify when a concussion has occurred and when it has resolved. In general, for young athletes, if a concussion is suspected they should be removed from play, not to return that same day and to be evaluated by a qualified medical professional. Check out this infographic for understanding the 5th International Conference recommendations on assessment and return to play.
Consensus statement on concussion in sport—the 5th international conference on concussion in sport held in Berlin, October 2016
National Athletic Trainers' Association Position Statement: Management of Sport Concussion (2014)
American Medical Society for Sports Medicine position statement: concussion in sport (2013)
American Academy of Neurology: Position Statement: Sports Concussion (2013)
American Academy of Pediatrics: Returning to Learning Following a Concussion (2013)


The above recommendations in preparation of the coming preseason focus on the most common and potentially catastrophic injuries and illnesses. This article does not include all potential situations where an emergency could result. Some of these include anaphylaxis, an asthma exacerbation, internal injury, cervical spine injury, exertional sickling, hyponatremia, and hypo/hyperglycemia. Parents and others are encouraged to do your homework and be prepared for other situations that could be specific to your athletes based on their specific health and medical history.
Take the time to learn your school's EAP, get a comprehensive sports PPE as you prepare for the coming sports season.