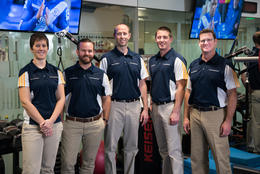 With the opening of a new Sports Medicine clinic in La Jolla, UC San Diego Health is leading the way with an emerging practice model incorporating athletic trainers (ATCs). Sports Medicine is the ideal "healthcare home" for athletic trainers, because of their education and skill in evaluating and treating injuries and illness in an active population, and educating them about injury prevention. UC San Diego Health now has 5 full-time athletic trainers embedded in their Sports Medicine clinic, serving active patients of all ages and abilities. Renowned sports medicine centers around the country are spearheading this role for athletic trainers, and special programs have emerged at universities across the country to prepare athletic trainers for work in a sports medicine clinic setting.
A certified athletic trainer is trained to provide on-field emergency care at sporting events and injury management for athletes in athletic training rooms at the professional, college and high school level. This new role for ATs, originally referred to as a "physician extender" integrates athletic trainers into a sports medicine practice in multiple ways: they assist the physician by performing patient intake, evaluations, contributing to clinical decision-making, home exercise instruction, patient education, bracing, splinting, and assisting with injections and other office procedures. Some athletic trainers are able to assist in surgery. They excel at helping active and athletic patients recover from their injuries and return-to-sport.
At UC San Diego Health – Sports Medicine, athletic trainers provide the following additional services:
• Injury evaluation and evidence-based recovery strategies
• Postural and biomechanical assessments
• Science-based strength and conditioning consultations
• Manual corrective techniques
• Assisted stretching and strengthening techniques
• Muscle energy techniques to improve musculoskeletal and joint function
• Rehabilitative taping (Kinesio taping)
• Soft tissue mobilization (Graston technique)
• Active Release Technique (ART)
• Pitching and/or golf swing analysis
Although these athletic training services are not often covered by insurance plans, that doesn't deter many active individuals from accessing AT expertise at UC San Diego Health. Patients know that they would pay as much or more for services from fitness clubs, personal trainers and independent community practitioners who may not have the same level of expertise.
Kevin Messey, MS, ATC, CSCS, Supervisor of Athletic Training Services at UC San Diego Health leads the AT team at UC San Diego Health. "The care we have traditionally provided to athletes in the athletic training room is now available to all our active patients at UC San Diego Sports Medicine. We learn so much from working alongside the doctors, and we hope that they learn a few things from us too," he says. "In this setting we have a great responsibility to educate patients and allied healthcare professionals about athletic trainers. We effectively deliver this message when we get results even after the first encounter. This gives us an opportunity to deliver positive change for each patient."
Athletes Saving Athletes Advisory Board member, Ken Vitale, MD, a non-surgical sports medicine specialist at UC San Diego Health, has found that having athletic trainers to support his practice is a game-changer. "Our certified athletic trainers (ATs) greatly improve our sports medicine practice. They help us manage our clinic by their ability to assist in virtually all aspects of care. Their education and training across the whole spectrum of athletic care lets them be a part of the office visit from start to finish, including injury evaluation, initial treatment, the recovery process, athlete rehabilitation and maintenance programs, and of course injury prevention. Our AT staff are like-minded to us and help to round out the overall patient/athlete experience, whether it is talking with our athletes about biomechanics, doing splint/brace fitting and adjustment, or concussion management. Being able to intervene in each step of a treatment plan is crucial to patients as well as incredibly valuable to physicians, and is where our ATs really shine."
Robyn Stuhr, Sports Medicine Program Director, spearheaded the effort to bring this new sports medicine paradigm to UC San Diego Health. The athletic trainers are now part of her outreach team, bringing their knowledge and skills to event coverage and safety education programs. They are also becoming authorized instructors for the Athletes Saving Athletes program. "Athletic trainers are truly dedicated healthcare professionals" says Robyn, "and it's been gratifying to see them bring their expertise and collaborative team approach to our practice."
Introducing the Sports Medicine Team at UC San Diego Health and their outstanding group of athletic trainers (pictured above from left to right): Adrienne Wilson, MS, ATC, Jimmy Smuda, MA, ATC, CSCS, Kevin Messey, MS, ATC, CSCS, Darrel Dyas, ATC, OTC, and Brian Livingstone, ATC.