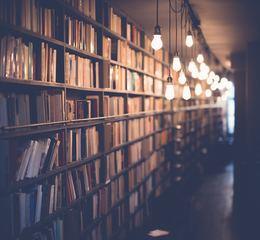 Athletic training (AT) education is transitioning to a graduate level (master's) degree for all future entry-level athletic trainers. Some programs have already transitioned while others are in the process of implementing the 2020 Standards for Accreditation of Professional Athletic Training Programs prior to the Fall 2022 deadline. As of Fall 2022 AT education programs are no longer allowed to admit or matriculate undergraduate athletic training students. To understand how athletic training (AT) has gotten here, it's important to take a look back and see how it started.
Athletic Training Education History
A 1999 article published in the Journal of Athletic Training provides a detailed chronology of athletic training education over the early years which you can check out here. Some of the highlights include:
1959 First athletic training curriculum model approved by NATA*
1969 First undergraduate athletic training curriculum approved by NATA*
1970 First national certification examination administered by NATA CC*
1972 First graduate athletic training curriculum approved by NATA*
1980 Resolution requiring athletic training curriculum major approved by NATA BoD*
1990 Athletic training recognized as an allied health profession by AMA*
1994 First entry-level athletic training education programs accredited by CAHEA*
1994 CAHEA* ultimately replaced by CAAHEP* later that year
1996 Elimination of internship route to certification - via AT degree only
2006 CAAHEP* becomes CAATE*
2015 Transition from undergraduate to graduate degree as entry-level degree is initiated
2020 New accreditation standards for masters program take effect
2022 End of matriculation of undergraduate athletic training students, masters only
*Association Abbreviations
AMA - American Medical Association
CAHEA - AMA Committee on Allied Health Education and Accreditation
CAAHEP - Commission on Accreditation of Allied Health Education Programs
CAATE - Commission on Accreditation of Athletic Training Education
NATA BoD - National Athletic Trainers' Association Board of Directors
NATA CC - National Athletic Trainers' Association Certification Committee
As you can see, we've come along way since those first Ivy League football games starting in the 1880s and James Robinson, considered the father of modern athletic training in the United States. Moving forward, anyone interested in being an athletic trainer will do so via a master's program. As of Fall 2022, if not sooner, the undergraduate option to enter the athletic training (AT) profession will no longer exist. Since the decision was made in May 2015, current undergraduate athletic training programs have been deciding how they will move into the future – will the program transition to an entry-level master's program or will the program disband once AT education programs can no longer admit and matriculate undergraduate students within the curriculum?
While transition and change are always challenging, this is evidence of the continued growth of the athletic training profession and the acknowledgement that this growth has necessitated increasingly complex knowledge, skills and attitudes, better addressed at the graduate level. It has become clear that in order to continue to serve the public safely and advance the science and medicine of athletic training the educational standards must continue to advance. Failure to change, can mean failure to thrive, and its exciting to see the athletic training profession continue to rise to the challenge of meeting the future.
Athletic Training Profession Background
According to the National Athletic Trainers' Association, "athletic training encompasses the prevention, examination, diagnosis, treatment and rehabilitation of emergent, acute or chronic injuries and medical conditions (source)." Athletic training is considered an allied health profession by the American Medical Association (AMA), Health Resources Services Administration (HRSA) and the Department of Health and Human Services (HHS).
According to ExploreHealthCareers.org there are 5 million allied health professionals in the United States. These professionals work in more than 80 different careers and constitute 60% of all health care providers. By 2020 there is expected to be 19.8 million health care jobs, many of which will need to be filled by allied health professionals. Besides athletic trainers, other professions include dental hygiene, health information management, medical technology, physical therapy, speech-language pathology and respiratory therapy. As a critical member of the health care team athletic trainer job opportunities are expected to grow 19% between 2018 – 2028, an increase of 5,900 jobs over that time frame. Total jobs is expected to reach 37,000 across the United States according to the Bureau of Labor Statistics.
Strategic Alliance
The Strategic Alliance includes, the Board of Certification, Inc. (BOC), Commission on Accreditation of Athletic Training Education (CAATE), the National Athletic Trainers' Association (NATA) and the NATA Research and Education Foundation (NATA Foundation). Together these four organizations collaborate to align education, professional development, credentialing, advocacy and research around the central mission of advancing the profession of athletic training. Each organization has a very distinct group of stakeholders, but in total provides a complete focus on the athletic training profession. Their collaboration means a professional education that prepares AT candidates for credentialing and maintenance of their certification and support of credentialed ATs in clinical practice with scholarship and research, public advocacy and public safety.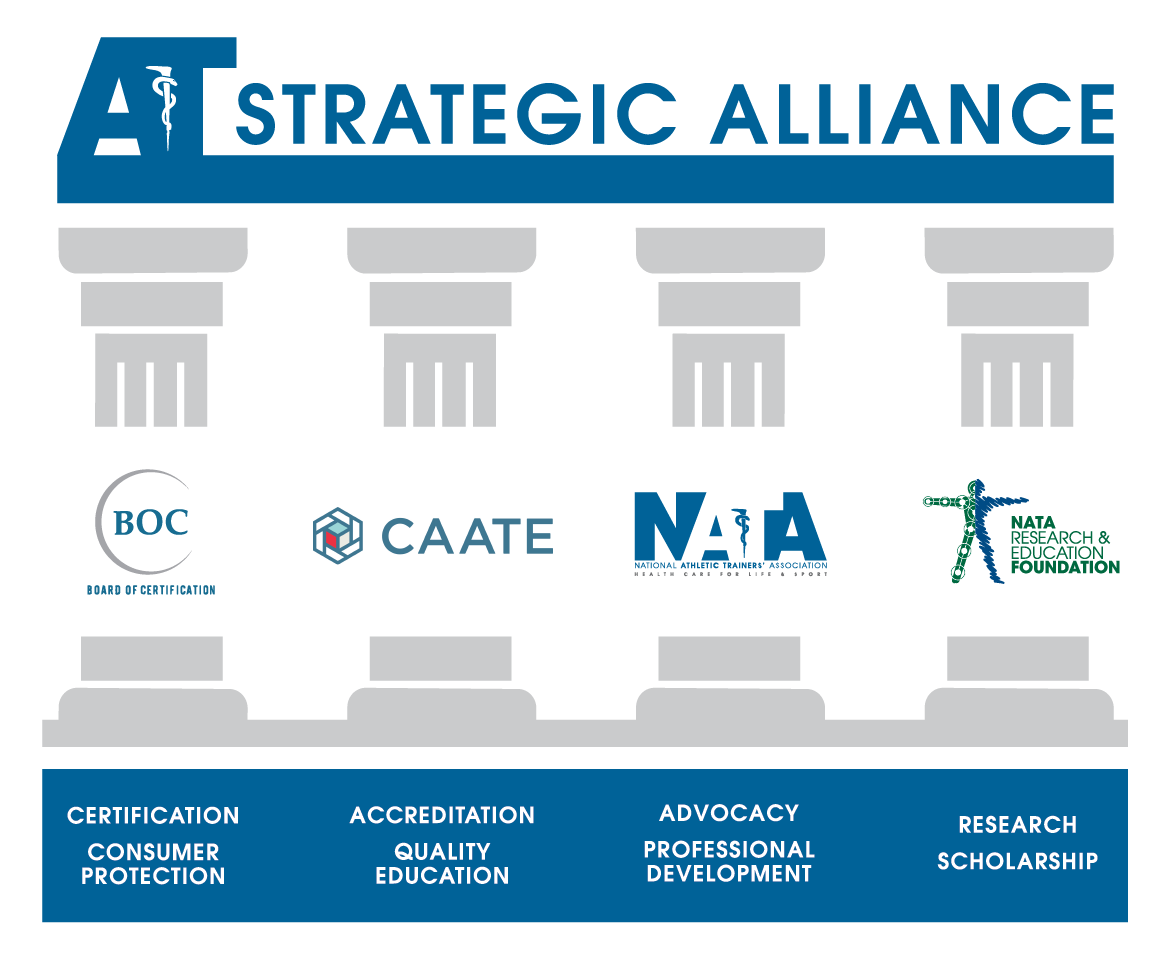 CAATE Standards for a Professional Athletic Training Program
CAATE is the organization that oversees accreditation of the athletic training curriculum and ensures quality education that provides students the knowledge, skills and attitudes required to become a successful entry-level athletic trainer. The 2020 Standards for Accreditation of Professional Athletic Training Programs take effect July 1, 2020, twp years in advance of the Fall 2022 graduate-level matriculation only deadline for the professional degree in athletic training. For those who are unfamiliar with the Standards for Accreditation, this is the guiding document that outlines the requirements for a program become or maintain an accredited AT education program. An active accreditation allows these programs to admit, matriculate, and confer a degree to students. Once these students graduate with their professional degree in athletic training via an accredited program they become eligible to challenge the national credentialing exam as administered by the Board of Certification, Inc. (BOC). To use the credential ATC, an individual must both graduate from an accredited curriculum and pass the BOC certification examination. For those who are interested in learning more about the details of the standards, check them out here.
If you're reading this post as someone who interested in the profession of athletic training and wondering what institutions offer AT programs, you can search the current database available through CAATE here. Please keep in mind if you're interested in a program that only offers a bachelor's degree, you should contact that program to ensure you have enough time to complete your degree before the required switch to a graduate program. Given the time frame, I suspect many undergraduate programs may no longer be accepting new students into their undergraduate programs.
The athletic training profession has come a long way since buckets of water and sponges, smelling salts and other antiquated techniques of caring for athletes. The transition to a graduate degree as the entry into the profession is just the next step in that evolution. Transition can sometimes cause stress and confusion for the those entering the profession and even the general public. This article was an effort to clarify the coming changes to athletic training education and what that means for those who employ and engage with athletic trainers. Over the next few years there will be entry-level athletic trainers who will be graduating from both undergraduate and graduate programs as the transition moves through its final stages and both groups remain eligible for a time to challenge the certification examination. At the end of the day, when employing or otherwise utilizing an athletic trainer you should always ensure they are credentialed by the BOC and appropriately licensed for the state in which they are employed, this will ensure they meet the minimum practice standards to act as an athletic trainer in your community.
DISCLAIMER: The content contained in this blog is for informational purposes only. The content is not intended to be a substitute for professional medical advice, diagnosis or treatment. Always seek the advice of your physician, athletic trainer, or other qualified health provider with any questions you may have regarding a medical condition. If you think you may have a medical emergency, call your doctor or 911 immediately.
OPENING PHOTO CREDIT: Photo by ?? Janko Ferlič - @specialdaddy on Unsplash