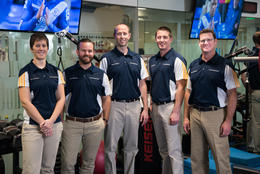 I recently had the privilege of sitting down with Kevin Messey, MS, ATC, CSCS, CES, Athletic Trainer, UC San Diego Health Sports Medicine, to talk about the wide range of sports medicine services offered to the San Diego Community. A tour of the sports medicine facilities demonstrates a commitment to providing the best sports medicine care in the community. The facility is supported by five athletic trainers, including Kevin, along with a variety of physicians and specialists all with the goal of keeping athletes healthy and participating safely. Kevin continues to look for ways to support the community by supporting its sports medicine needs, improving equitable access to care for local athletes, and supporting sports as a positive experience for athletes of all ages.
Many of you may already be familiar with UCSD Health Sports Medicine's general athletic training services, physician services, concussion clinic and its support of Advocates for Injured Athletes' (A4IA) Athletes Saving Athletes (ASA) program, but more recently UCSD Health Sports Medicine had the opportunity to support the goals of the San Diego Unified School District (SDUSD) and increase athletic trainer access to all district athletes by supporting part-time athletic trainers at each of the 16 high schools in the district and offering free sports injury screenings. For some, this is the first time athletic training services will be available. This commitment is directly in line with the mission of A4IA, raising awareness about the important role the athletic trainer plays in helping to keep athletes safe.
"When we were presented with this opportunity we felt this was a great avenue for us to help support our community athletes and do the right thing for all groups involved. We are proud that we have been able to support the initiative to provide part-time athletic trainers in each of the 16 SDUSD high schools. We have increased physician sport coverage and created our FREE Saturday Sports Injury Screening in support of the second largest public school district in California behind only Los Angeles. These initiatives align with our mission to increase healthcare service to our underserved population." – Kevin Messey, MS, ATC, CSCS, CES
SPORTS INJURY SCREENING: Sports injury screening are offered every Saturday and are open to any athlete in the San Diego Unified School District with a valid student ID. Injury screenings are scheduled through November from 9 a.m. to 11 a.m. at 4520 Executive Drive, La Jolla. Students and parents are reminded that the injury clinic is not for severe or emergency situations, if you require immediate attention please do not wait until the next clinic - seek out a provider or go to your nearest Emergency Department.
CONCUSSION CLINIC: Concussion clinic appointments are most commonly scheduled on Monday mornings, but may be at other times as needed. The concussion clinic offers a wide variety of services for athletes who have suffered such injuries ranging from personalized return to play and return to learn plans along with access to a referral network of specialists depending on your specific needs.
SPORTS NUTRITION: Appointments with a sports dietician can be made on Monday afternoons. Potential patients/clients are reminded that these services are not typically covered by insurance and there may be out-of-pocket costs.
Other services offered by UCSD Sports Medicine include one-on-one athletic training evaluations and other services to improve your performance ranging from functional and biomechanical assessments, pitching and/or golf swing analysis to a variety of sports rehabilitation services. These services include strength, conditioning and exercise modifications, stretching and strengthening techniques, soft tissue mobilizations, and active release technique (ART) to name a few. To access any of the services or for more information you can call 844-DR-SPORT (844-377-7678) or access http://health.ucsd.edu/sportsmed.
Kevin Messey and the entire Sports Medicine team at UCSD Health Sports Medicine is proud to support the San Diego athletic community and continues to look for ways to improve access to care and offer the best sports medicine services in San Diego. They are also proud to support Advocates for Injured Athletes and their Athletes Saving Athletes Program. For more information on the ASA program visit: http://injuredathletes.org/athletes-saving-athletes/