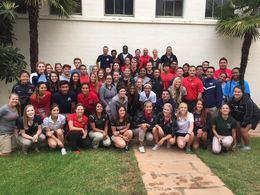 Youth sport safety remains on the minds of many after March as National Athletic Training Month closes out and April as National Youth Sports Safety Month is in full swing. The news has been filled with many stories of what parents and coaches can do to help keep kids safer during sports participation. A4IA continues to work tirelessly to promote athletic trainers as a key component in the overall safety of all athletes and to teach high school athletes important tips for recognizing when their teammates may be in danger. Parents, coaches, athletes, and athletic trainers must continue to work together to make sports safer for all athletes.
While A4IA's ASA Program emphasizes the importance of having an athletic trainer available to provide appropriate care in potentially catastrophic situations – athletic trainers are so much more than emergency sports medicine care. Having athletic trainers available provides the opportunity for access to a continuum of care – prevention, evaluation, management and rehabilitation of injuries of all kinds – complete sport safety for all athletes.
Scholastic athletic programs have continued to acknowledge the importance of athletic trainers. According to a benchmark study 70% of public high schools have some type of athletic training coverage, but only 37% have a full-time athletic trainer who can fully support the continuum of care. Athletic trainers who provide care on a part-time or per diem basis provide some level of assurance, particularly at games, but the reality is the potential for injury is always present, whether its a game or practice. According to a recent publication by the National Athletic Trainers' Association titled, Funding Appropriate Medical Care, 62% of sports injuries occur during practice and the highest rate of emergency room visits for injuries is among those ages 15-17. Research by the CDC shows more than half of all sports injuries in youth are preventable by using current best practices and guidelines and having a qualified health care professional on staff.
Parents, coaches and athletic administrators must continue to support their athletic programs with tools and staff to provide a safe sports experience. For those who have athletes who participate in sports programs not supported by the public or private school system – be an advocate for a safer program. Educate yourself and encourage private sports programs and community recreational programs to utilize athletic trainers as part of their best practice in sports safety.
April may not be National Athletic Training Month in name, but as National Youth Sports Safety Month athletic trainers are a major component of an overall safety strategy for all young athletes. Who's the athletic trainer on your team?