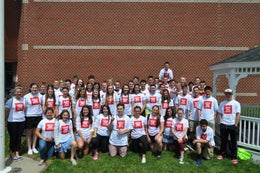 The NHMI is dedicated to advancing knowledge in musculoskeletal care and sports medicine and to promoting and providing a safe sports environment for athletes. As part of that mission they collaborate with a wide range of organizations including Advocates for Injured Athletes as an approved provider for the Athletes Saving AthletesTM Program since 2014. NHMI, located in Manchester, is one of two cities who have been granted approved provider status and provide the ASA™ Program to athletes outside of San Diego.
As part of their continued partnership I had the opportunity to speak with Amy Hollingworth, ATC, RN, LMT, Director, Safe Sports Network andLaura Decoster, ATC, Executive Director, NHMI about the latest happenings at NHMI and the Athletes Saving Athletes™ Program. NHMI have two instructors, including Amy, that teach 2-3 classes annually, totaling over 400 students. Student-athletes who are selected to participate in the program are chosen by their school's athletic trainers, coaches and athletic directors. Many of the athletes are also part of a student-athlete leadership group at their high school. ASA™ has been brought to the nine high schools that are part of NHMI's Safe Sports Network as well as some private high in the area. For those who have completed the program they are recognizing issues in their teammates and reporting them to the athletic trainer, coach or other adult.
When I asked Amy why she and NHMI continue to offer the program for free with grant support to the athletes in the community she relayed accounts of how the students connect to the ASA™ athlete stories and eagerly engage in the education. Amy shared stories of athletes finding out when the course is being offered and showing up to participate, or parents who had one child participate and wanted to know when the next course is happening so their other child(ren) can participate as well.
Amy said, "We love this program. The athletes and the community love it and want to be part of it. The program reaches student-athletes in a meaningful and impactful way. It gives them life skills and makes them more aware of the health and safety of their teammates and themselves. It's a privilege to pay it forward to each now group of students."
NMHI, Amy Hollingsworth and Laure Decoster will continue to pay athlete safety forward to each new group of student-athletes as they continue to offer the ASA™ Program along with the many other services they provide to the Manchester community.
Laura Decoster described the level of importance that NHMI and its outreach arm Safe Sports Network place on emergency preparation and planning. Their comprehensive approach to emergency preparation includes venue-specific emergency action plans, development of sudden cardiac arrest response crews for each team, unannounced emergency response drills and CPR and first-aid training for coaches and athletes.
Laura said, "We provide an athletic trainer on-site daily at nine high schools, but anybody who is familiar with high school sports knows that there are always simultaneous activities at multiple venues. Athletic trainers are awesome, but we still haven't figured out how to be more than one place at a time! That's where our commitment to education and to keeping young athletes safer intersect."
Athletes Saving Athletes™ is the most important program for training athletes as part of this comprehensive program. NHMI combines ASA™ with school-wide hands-only CPR training via health classes meaning there are trained first responders on most teams. At the end of the day, NHMI's goal is to have someone on every field or playing surface who knows how to recognize and act as a first responder to an ill or injured athlete until further help arrives.
Thank you to Amy and Laura for taking the time to speak with me and Advocates for Injured Athletes. Congratulations to NHMI on all their great work related to sports safety, sports medicine and community outreach. The ASA™ Program is in good hands NHMI. The students who have completed the program are better for the experience and they will become the next generation of sports safety advocates who expect EAPs and other relevant policies and procedures are in place and that an athletic trainer is available at all times.
DISCLAIMER: The content contained in this blog is for informational purposes only. The content is not intended to be a substitute for professional medical advice, diagnosis or treatment. Always seek the advice of your physician, athletic trainer, or other qualified health provider with any questions you may have regarding a medical condition. If you think you may have a medical emergency, call your doctor or 911 immediately.