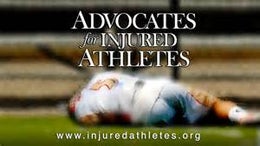 The ASA™ Program is familiar to many in San Diego with over 1500 athletes who have completed the program since its inception. A4IA is looking to expand the ASA™ Program impact by taking the program to other cities around the country. As a first step A4IA has selected Community Health Network's Sports Medicine Program in Indianapolis, Indiana and the New Hampshire Musculoskeletal Institute (NHMI) in Manchester, New Hampshire as the locations for upcoming ASA™ programs. A4IA would like to take time today to introduce you to the athletic trainers behind these two organizations that have been instrumental in bringing ASA™ to their area. Meet, DeAnne Green, ATC (Community Health Network) and Laura DeCoster, ATC (NHMI). I recently had an opportunity to connect with these athletic trainers and find out why bringing ASA™ to their community was so important to them.
DeANNE GREEN
DeAnne is a professional athletic trainer who manages Community Health Network's Sports Medicine Program. The program is responsible for improving sports medicine health care for athletes in the Indianapolis area. This includes athletic training coverage for several local high schools and an Indy Car racing team. There are also a variety of injury clinics/screenings and educational events. Check out their website for more information!
DeAnne had the pleasure of connecting with Beth through former NATA President, Marjorie Albohm. Once connected with Beth, the value of the ASA™ Program to Community Health Network's Sports Medicine mission was immediately obvious. Community Sports Medicine is already working to educate parents, coaches and athletes to improve their overall well-being and the ASA™ Program's focus on youth sport safety is one of the key areas for Community's Sports Medicine.
DeAnne is most excited about how ASA™ empowers athletes to help each other in a time of need. In most situations, teammates are often the first one to an injured athlete. Knowing what to do can be powerful for all athletes on the field. DeAnne says, "It has been my pleasure to work with Beth, Tommy and A4IA. Their support of athletic trainers and youth sports safety is awe-inspiring, heart-felt and truly special. I am proud and honored to share this program in the Indianapolis area."
LAURA DeCOSTER
Laura is a professional athletic trainer who is the Executive Director of the New Hampshire Musculoskeletal Institute (NHMI). NHMI's largest program, the Safe Sports Network (SSN) focuses on all aspects of youth sport safety for athletes in the Greater Manchester area. The program provides athletic trainer coverage for seven high schools in the area and runs a drop-in injury clinic in downtown Manchester. SSN also provides concussion management for youth leagues, including baseline and follow-up cognitive testing. NHMI also provides extensive opportunities for research and professional development for athletic trainers, physicians and other allied health professionals. Check out SSN find out more!
Laura became aware of A4IA when she was working on a video for the SSN and she came across Tommy's video on YouTube when searching for examples. Shortly thereafter she met Beth at the Youth Sports Safety Alliance Meeting in Washington, DC (February 2013). Given NHMI's focus on youth sport safety through the SSN, ASA™ seemed like a logical addition to what was already being offered.
Laura believes there is value in the ASA™ Program for schools that have an athletic trainer as well as those who do not. Just like DeAnne, Laura is aware that most often, even when an athletic trainer is on the sidelines it is a teammate that will likely reach an injured athlete first. Knowing what to do can be the difference between a full recovery and a potential catastrophe. Empowering athletes to help themselves is the first step in expanding sports medicine coverage for all athletes. Laura says, "When I heard about ASA, I thought it was brilliant. I hope that every potentially catastrophic outcome that could be prevented, is prevented."
The ASA™ Program has already had a tangible impact here in San Diego, with two ASA Ambassadors using their hands-only CPR skills to save a life. ASA™ has also given over 1500 San Diego athletes the ability to help their teammates in an emergency. A4IA looks forward to taking their ASA™ and their "What you know may help save someone you know" message on the road.